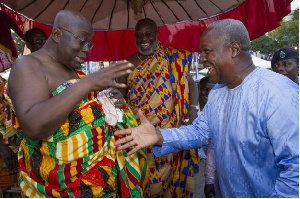 The only Independent Presidential aspirant in the 2016 elections, Joseph Osei Yeboah, has pledged to "shock" the presidential nominees of the governing National Democratic Congress (NDC) and the opposition New Patriotic Party (NPP).
He told Class FM words should be sent to the Ministry of Health for it to "ensure that there's an ambulance each placed in the house of Nana Akufo-Addo and President John Mahama respectively.

"…Because the kind of shock that they are going to get on that day, if there's no ambulance quite closer to them, you might not here good news in Ghana."

Mr. Yeboah in 2012 was the only independent candidate to run for the Flagstaff House, polling 15,156 votes representing 0.14 percent. He was in the race with seven other aspirants including Mahama, Nana Akufo-Addo, Dr. Abu Sakara of the Convention People's Party (CPP) and Hassan Ayariga of the People's National Convention (PNC).

The rest are; Dr. Paa Kwesi Nduom of the Progressive People's Party(PPP), Henry Hebert Lartey of the Great Consolidated People's Party (GCPP) and Kwasi Addai of the United Front Party (UFP).
Despite his appalling performance in 2012, Mr. Yeboah was upbeat of his chances in the forthcoming polls which is slated for December 7.

Ghanaians, he said since the resumption to multiparty democracy in 1993 experienced nothing but disappointment from the incompetence of both the governing NDC and NPP — ruling for 16 and eight years respectively.

"…I can't think far as individual. I can't think the reason why I must continue to vote for either NPP or NDC, both of them are Goliath," said Mr. Yeboah with "babies with sharp teeth" spewing insults of decent Ghanaians.