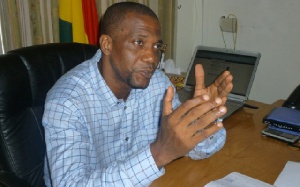 Independent Presidential candidate Jacob Osei Yeboah has challenged President John Dramani Mahama and opposition New Patriotic Party flagbearer Nana Addo Dankwa Akufo-Addo to debate him on how best to govern the country ahead of the December 7 elections.
President Mahama recently called on Nana Akufo-Addo to engage him in a debate to give Ghanaians the opportunity to know the best person fit to be given the mandate to rule the nation for the next four years.

The invitation has been flatly turned down by the NPP saying President Mahama rejected a similar opportunity to engage Akufo-Addo by the Institute of Economic Affairs, (IEA).

But speaking on Morning Starr Monday, Mr. Osei Yeboah popularly known as JOY told host Nii Arday Clegg that both Mr. Mahama and Akufo-Addo must first apologise to Ghanaians for the internal bickering in their respective parties before they ask for the mandate of Ghanaians.
"None of them [Mahaama and Akufo-Addo] can debate me, I am telling you, none of them can debate me. Nana Addo and Mahama, they can't debate me, but I want them to respect the people...and of all the things that have happened in their parties they should accept responsibility and apologise before asking for their mandate."

According to him, a one-on-one debate between Mahama and Akufo-Addo would be engaging in mediocrity and will not be useful.

"It is going to be fighting for mediocrity and I don't believe in that, this one would say that when we came you were involved in this corruption and this one would also say you were involved in that corruption, we want debates that is development oriented and how they can move this nation forward to the next level."