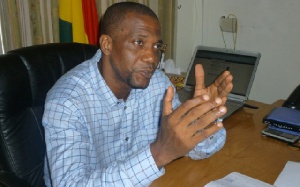 Mr. Jacob Osei Yeboah the independent presidential candidate in the upcoming 2016 presidential election says, he is the best presidential material compared to President John Dramani Mahama and his closest contender, Nana Akufo Addo of the opposition New Patriotic Party (NPP).
Speaking in an interview with Kwame Tutu on Rainbow Radio 87.5Fm, the candidate wondered why Ghanaian voters continue to vote for the ruling National Democratic Congress (NDC) and the NPP although they fail to deliver on their promises after winning the election.

Mr. Yeboah called on electorates going to vote in this year's election to vote against the ruling NDC, and the opposition if they really want to see the change they are yearning for.

The rate of unemployment in Ghana he explained, is a threat to state security and the rate keeps going high because government is not creative with ideas to address them. He was also worried that graduate nurses and sanitation officers are still home after graduating from school without jobs.

The nurse to patient ratio he lamented is woefully inadequate. He suggested that, if government claims they are no resources available, the state could arrange with other countries so nurses from Ghana would go abroad and work for sometime and come back.

His administration will implement the national electronic data infrastructure (a system meant to track the life cycle of individuals from birth to death) nationwide which he noted, would create jobs for young people across the country.

Mr. Yeboah said, he will restructure a number of ministries under his administration. He said, he will restructure and merge education and industry as a ministry for the purpose of industrialization and job creation.
The agriculture ministry, creative arts, roads are other ministries he hinted would be restructured under his administration.

''The creative arts, culture, and tourism, are going to be merged as one ministry. We want to create wealth through culture led by our traditional rulers. We will earmark July to October as a tourism month. This will generate more revenue for the country and other industry. We will also restructure the sports and health ministry. We will build sports facilities in all the various districts led by the private sector.''

On education, the candidate said, he will ensure that each constituency or if possible, every electoral area will have a library.

The libraries he added, will also be championed by the private sector with support from government. A commission for the vetting of textbooks he added would also be set up to regulate the publishing and approval of books for the educational sector. Sanitation officers he indicated would also be re-introduced.

The candidate was among the three other presidential candidates cleared to contest in the 2016 presidential polls.