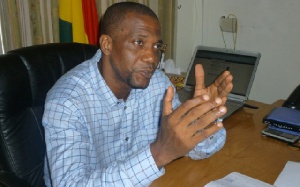 Independent presidential candidate in the upcoming 2016 presidential election, Jacob Osei Yeboah has described politicians who do not have other jobs as thieves.
Speaking in an interview with Rainbow Radio's Kwame Tutu, Mr. JOY as he is affectionately called said, anyone who calls himself or himself a politician but have nothing else doing apart from politics is a thief.

According to him, corruption breeds more in society especially when we have 'incompetent appointees' who have no other profession which generates revenue for them. He said, such persons easily corrupt themselves, steals from the state when they are appointed based on political affiliation.

''Anyone who calls himself or herself a politician yet have no other profession, that generate an income for them, are thieves...Corruption continues to grow in our society because we have men who have no professional life aside politics managing the affairs of state.
These people are appointed because of their allegiance to their parties and not because of their competence and diligence.'' Mr. Yeboah further blamed Ghanaians for encouraging and allowing corruption, violence to continue because they continue to vote for the NDC and NPP.

He said, if electorates begin to vote against parties that encourages violence, attacks and insults, we have peace, stability and growth in the country.The candidate who was hopeful of winning the election further chided voters for allowing politicians to take them for granted.

The political system he posited, will not help the country and the sub-region as a whole. JOY told the host that he is passionate about Ghana and that is why he is contesting as a candidate in this year's election.