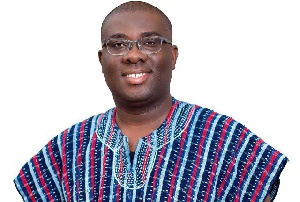 Mr Sammy Awuku, the outgoing National Youth Organiser (NYO) of the New Patriotic Party (NPP) has expressed his desire to abstain from voting in the NYO contest.
He said it was to maintain his neutrality to ensure that he was not aligned to any of the candidates contesting for that position.

He, however, expressed gratitude to the youth of the party for the opportunity to serve them.

Mr Awuku in an interview with the media on his arrival at the conference grounds said the experience he had during his tenure as Youth Organiser of the party had been a learning process that thought him to be humble.

"I am grateful to all NPP youth wings across the globe. To my Secretariat, Regional and Constituency Youth Organisers and TESCON, I could not have pulled it off without you… this position has been a learning curve and a humbling one for that matter," he wrote in a farewell statement.

He touted some of his achievements as Youth Organiser, adding, "I expect my predecessor to do more than what I have done. Capacity building is pivotal in restoring faith in the youth of the party and that must be encouraged."
"I strongly believe that to create an effective youth wing, it was expedient to undertake capacity building courses to enable our regional and constituency youth leaders to restore faith in our youth as well as win over the others to garner their support," he said.

He further expressed gratitude to the youth for their diverse contribution to help the NPP wrestle power from the National Democratic Congress (NDC).

The NPP Delegates Conference is currently underway in Koforidua in the Eastern Region to elect new national executives for the party.