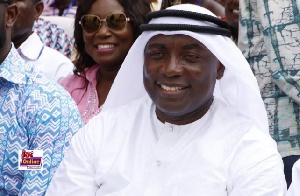 The suspended General Secretary of the governing New Patriotic Party(NPP) Kwabena Agyapong has rubbished calls by some members of the party urging him to apologize for his alleged wrongs done the party leading to his suspension.
He maintains he's done no wrong for which he should apologize.

However speaking to Joy News on the sidelines of the NPP extraordinary national delegates conference in Kumasi on Sunday, Kwabena Agyepong said he'll only apologize when a compelling wrong has been established against him.

"You apologize only when you've done wrong and I want to be honest with you nobody has proved any wrong…you want to see a compelling wrong. I'm happy with myself, the party took a decision, I respect the party I accepted but I disagree with that decision and I carried on with my life. Whatever little I can do to support the party I do it, right before the elections I did it, and after the election I've been to congratulate the President personally because I have a long standing personal relationship with the President."

The National Executive Committee (NEC) of NPP in September 2015 upheld the decision of the Disciplinary Committee to suspend indefinitely Kwabena Agyapong, along with the National Chairman, Paul Afoko; 2nd Vice Charman, Sammy Crabbe, for working against the party's chances of winning the 2016 elections.

Two years after the suspension, some constituency and polling station executives of the NPP have petitioned the party's hierarchy for the reinstatement of Mr. Agyapong.


They maintain that unlike Afoko and Crabbe, Agyapong did not seek legal action and that is a proof of his loyalty to the party.

The petitioners argued that, his conduct towards the party, even after his indefinite suspension in 2015 and his monetary contribution to the party's campaign ahead of the 2016 general election, was evidence of his unwavering loyalty.



But the likes of the Ashanti Regional Chairman of the NPP, Bernard Anti Boasiako aka Chairman Wontumi who have strongly opposed Kwabena Agyepong's reinstatement have said "Kwabena Agyepong should not be called back.



He is no more needed because he has not shown remorse for his actions leading to his suspension and so those calling for his return should shut up" he fumed.