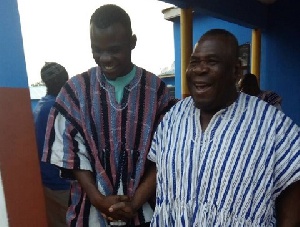 The Northern Regional Chairmanship race of New Patriotic Party (NPP) promised to be hot as a young man believed to be in his 30's, Prince Gbanso Busunu insists on contesting despite pressure mounted on him to step aside for current Chairman Daniel Bugri Naabu
The young Regional Chairman aspirant Prince Gbanso Busunu revealed that ever since he made his decision to contest the Northern Regional Chairmanship position, some executives of NPP in Gonjaland have in various ways tried coercing him to step down for the incumbent Daniel Bugri Naabu but he declined.

According to him, many of the executives pleading with him to step down are Bugri Naabu supporters but have said they will be confused if he contest because they will find it difficult not to vote for him because he is one of them.

"Whatever you heard is true, I have made my mind and met several bigwigs of the party and they supported my views and we are pushing forward. Many tried asking me to step aside but master I am not ready to step aside. I am qualified to contest and so why will one ask me to step aside". He disclosed on Bole-based Nkilgi FM
Asked by host Nkilgi FM if there were attempts to compromise him, Gbanso said he met Chairman Bugri and asked him to rather step aside and help he Gbanso win the race.

"Yes, he (Bugri Naabu) met me at Yagbonwuras Palace and we had a short chat and he asked whether I was contesting, I said yes and he said we should come together and take a common goal. I told him it was a collective decision with my supporters and so I need to meet them before I take a decision. I have seven districts in Gonjaland and 8 constituencies out of the 26 in the region. I have other constituencies who will rally behind me and Insha Allah I will win".

Political analysts in Gonjaland say it will a tough race for Chairman Bugri Naabu who has massive support in Gonjaland if there is no immediate negotiations with the young man who is tipped by many NPP youth and party executive in the Region to spring a surprise in the race.