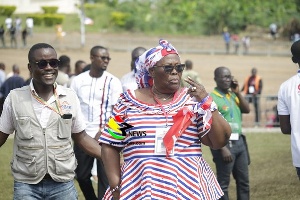 Known member of the New Patriotic Party (NPP) Hajia Fati has told journalists covering the 2018 Annual National Delegates' Conference that she will not grant any interviews to them.
She said members of the media fraternity have accused her of planning to kill them; hence, her decision.

She snubbed all attempts by journalists to get a word or two from her as she arrived at the Koforidua Technical University Park for the Conference.

Hajia Fati, who is frequently spotted at the NPP headquarters in Accra, came under a barrage of criticism for slapping a reporter from Adom FM.

She had later said she mistook her for an onion seller.

She later apologized for her action after threats by some media firms to boycott all programmes of the NPP as a result.

In her apology, done in tears, Hajia Fati said she bears no grudge against any journalist.
But it appears she is harbouring some grudge as she pointed two fingers at some journalists.