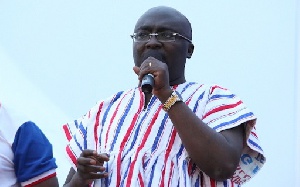 Vice President Dr Mahamamu Bawumia has said Ghanaians replaced "incompetence with competence" in last year's polls as far as Ghana's economic management is concerned.
According to him, President Nana Addo Dankwa Akufo-Addo has assembled a team of competent men and women who are bringing the economy back onto the right path.

Speaking at the NPP's delegate's conference in Cape Coast on Saturday, August 26, he said, among other things: "We thank the almighty God for delivering this country to us as a party to govern. And also for delivering our economy from the throat of economic mismanagement.
"President Nana Addo Dankwa Akufo-Addo and the NPP promised the nation that our government will transform the economy by ensuring that we replace incompetence with competence in the management of the economy.

"I must say without any fear of contradiction that President Nana Addo Dankwa Akufo-addo has indeed replaced incompetence with competence in the management of our economy."