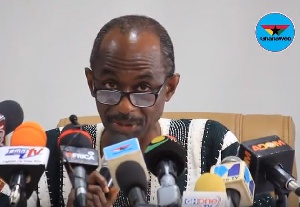 The General Secretary of the National Democratic Congress (NDC), Johnson Asiedu Nketia, has said he personally told Vice-President Dr Mahamudu Bawumia, when the two of them met at the one-week memorial service of late Vice-President Kwesi Amissah-Arthur at the Ridge Church in Accra on Friday, 6 July 2018, that the main opposition party would not be able to honour an invitation to the governing New Patriotic Party's National Delegates' Conference which was held in Koforidua on Saturday, 7 July.
There were representatives of other opposition parties who shared goodwill messages at the event, except for the NDC despite having being invited.

Explaining the absence of the NDC, Mr Nketia told Accra FM on Monday, 9 July that the party got the invitation very late.

According to Mr Nketia, after several failed attempts to reach then-acting General Secretary, John Boadu, who was elected substantive General Secretary at the conference, he personally conveyed the party's inability to honour the invitation, to Dr Bawumia at the one-week memorial service for the late Amissah-Arthur.

"We have always been present at NPP functions over the years but this time the invitation didn't come early," he said.
He continued: "I had difficulty in accessing John Boadu on phone, he didn't pick the calls. I also don't have Freddie Blay's contact and also the Eastern Regional Chairman of the NDC is sick, so, he couldn't attend.

"So, when the Vice-President came to the funeral ceremony, I personally gave him the message that we cannot attend the event."

Mr Nketia further stated that: "Deep within the NPP, they are happy the NDC didn't come because they were scared of how I was going to reveal their mistakes to the entire world."