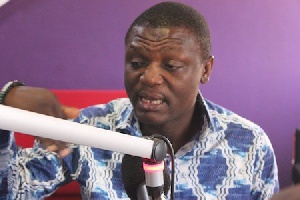 National Organizer of the ruling National Democratic Congress (NDC) Kofi Adams has flayed Leader of the National Democratic Party (NDP), Nana Konadu Agyemang Rawlings, for alleging that some parties may have been paid to adopt certain positions regarding the debate on the current voters register.
Speaking with Accra-based TV3 during the two-day stakeholders' forum on the Voters Register organized by the Electoral Commission last week, Nana Konadu Agyemang-Rawlings said "It is very difficult to tell what impact [the forum] will have when you have not actually taken a proper census of who sees the problem, what the problems are and how we are going to address it."

"Because if we listen to only party positions, when we know in this country that some parties can actually decide that we going to pay XYZ so they say the things we want, you are not going to get the best out there," she added.

According to the former first lady, the EC must "talk to professionals who can see into these things and then get your opinion even as you want to talk to party leaders on these things".
But speaking on Okay FM on Monday, Kofi Adams, who was once the spokesperson for the former First Family (Rawlins's), said it was most unfortunate for the NDP leader who is also the former First Lady and an experienced politician, to have made such preposterous comments without substantiating same.

He noted that the NDC takes strong exception to those comments as the party will never influence other parties to support its position which is that the current voters register must be maintained, since the NDC has a strong case.

"Some of these statements are better not said. Since 1992 when the NDC was formed at a time Nana Konadu was a member of the party, we have on several occasions had other parties sharing our positions on such electoral matters during election years. Is she suggesting that previously those parties were also influenced? If not, then the same principle must apply now."