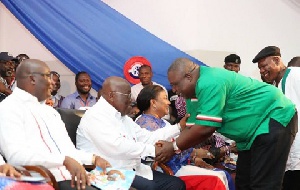 One of the fiercest critics of then candidate Nana Addo Dankwa Akufo-Addo prior to the 2016 elections is Deputy General Secretary of the National Democratic Congress (NDC), Koku Anyidoho.
He was among the lead vociferous persons fighting against plans by the current president to become the Commander –In-Chief of the Ghana Armed Forces and in some cases said he had dreams Nana Addo became president.

Mr Anyidoho who has now accepted in reality the fact that Akufo-Addo is the President of the republic, disclosed that Saturday's meeting was the second time both came face-to-face after power changed hands.

"We met the first time and he advised me on something. Saturday's was the second time and I was thanking him for the advice he gave me. He kept asking me if I was ok and I told him I am fine. Let me place on record that NPP did very well. They catered well for us on Friday through to Saturday ", he said on Okay FM.

According to him, he will be the last person not to admit that Akufo-Addo is the President of Ghana, having had the experience of working for the late Professor John Evans Atta Mills of blessed memory.

He however stated that the warm reception accorded him by the elephant family should not be a seal cap to criticisms of what will be going wrong within government.
According to him, the President should deliver on his promises made to Ghanaians regardless of the situation since while in opposition he stated that the state had the capacity to deal with the challenges citing promises of paying DKM and God is Love customers, restoring teacher and Nursing Training Allowances and well ensuring that the citizenry move freely without acts of intimidation and harassment from party vigilante groups.

"There is too much tension in the country as a result of the waning confidence of the electorate and as political parties and politicians; we must quickly restore trust and confidence.

"The NDC shall not sit idly by and allow the Delta Forces and Invisible Forces to hold this nation to ransom as we continue to call on the law enforcement agencies to apply the rules of State without fear nor favour," Anyidoho stated.