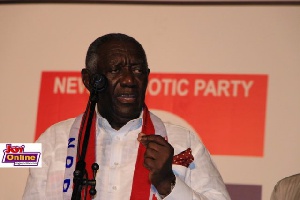 Former President John Agyekum Kufuor and First Lady, Rebecca Akufo-Addo were conspicuously missing at the New Patriotic Party's (NPP) extraordinary delegates conference held at the Kumasi Heroes Park on Sunday, December 17, 2017.
The absence of the two especially the former president raised eyebrows as he is noted for always attending special functions of the party including conferences.

Though no reason was advanced publicly for his absence, mynewsgh.com gathered that the 79-year old was indisposed and as a result could not be part of the event hosted by his home region.

In the case of the First Lady, sources indicate that she was on official duties outside the country which is why she could not take part.

The NPP on Sunday adopted some amendments in the party's constitution and withdrew some controversial ones including; proposition for Members of Parliament (MP) to appoint constituency executives, party members with dual citizenship to be disqualified from contesting for any party position and the flagbearer of the party to be considered as the leader of the party.


President Nana Addo Dankwa Akufo-Addo who led the revolution against some of the amendments vehemently objected to the amendment for NPP MPs to appoint their constituency executives adding that the one seeking to also make the Presidential Candidate the leader of the party stating that it is against the tradition of the party.

"We do not need that amendment in the party", he stressed.