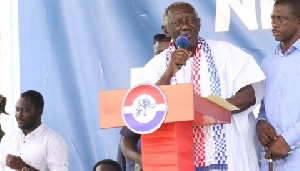 Pollster Ben Ephson has said former President John Kufuor's unity-themed message at the New Patriotic Party's national delegates conference at Koforidua was targeted at the Presidency.
Mr. Kufuor told NPP delegates at the conference to stay united if they want to stay in power for long.

"I have come to remind you that we are only one and half years into power. Unfortunately for us, the tenure of office of our government is too short, it is only four years. You don't change the world within four years but we want to change the world, we want to transform Ghana.

"And to be able to do this we need a very solid and united party as the undercarriage for the great vision and great policies the government is launching to be given the change of the day, to win election over and over again at the national level so that these visions could be realized for the people of Ghana as a whole. And to do this I've just come to you to please swallow your pride…for this, we must swallow our individual egos and with all due respect vanity for the greater good of our country and humanity at large," Mr. Kufuor said.

Speaking to Francis Abban on the Morning Starr Monday, Mr. Ephson said he hopes the presidency will be able to identify and pick the message in the former President's address.

"J. A. Kufour's speech was loaded and I think those who have ears should listen. The speech was heavily loaded and I am sure those who have to take a cue from it will do so. Kufour was clearly addressing the Presidency," he said.


Mr. Ephson also urged the President to find a more efficient means to pick feedback from Ghanaians.

"The President will have to open his eyes wider. The President will do himself a lot of good if he has a dedicated WhatsApp number on which people can reach him and give information."

The NPP converged in Koforidua over the weekend to elect new national executives.