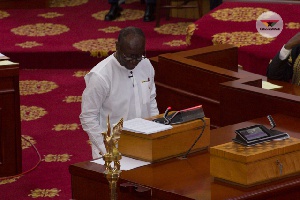 The presentation of the 2017 budget by Finance Minister Ken Ofori-Atta in Parliament is underway. The budget is expected to outline reforms government intends to implement to confront the country's economic challenges as well as reveal its revenue and expenditure plans for the full year.
All 8 budgets presented under the NDC administration were heavily criticized by the then opposition NPP who claimed that consistently, budget statements recorded did not reflect the "Better Ghana" agenda as projected by the NDC.

The NPP argued that despite the many gains made in areas of tax revenues, gold, cocoa, and oil among other things, the NDC still had outstanding arrears with the NHIS, GETFUND, DACF, payments to contractors, teacher trainee allowances, nursing trainee allowances as well as national service staff allowances.

The Mahama-led administration was accused of contributing to the country's high indebtedness, high unemployment rate and the collapse of several businesses due to malfeasance, uneven distribution of the country's revenues incompetence and poor policy structures among other things.

With the NPP committing to an improvement in the country's economic status and the lives of Ghanaians in general, stakeholders in all sectors of the country are anxiously awaiting the reading of the very first budget from this new government from which they can make their judgements and predictions with substantive information on if or not these promises are attainable.
The 2017 budget statement and fiscal policy is projected to center on stimulating growth and job creation with prime focus on private sector development.

Join our minute-by-minute update of the Finance Minister's presentation here.