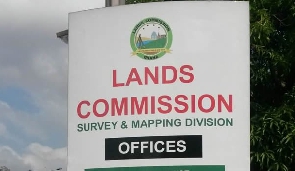 Staff at the Lands Commission are kicking against any attempt to extend the term of the Commission's Executive Secretary, Sulemana Dawuda Mahama.
The workers want Mr Dawuda Mahama to gracefully bow out for a younger and equally experienced person to take over when his two-year contract ends instead of lobbying for two more years extension.

According to them, the Executive Secretary was offered the job by president Nana Addo Dankwa Akufo-Addo after retiring from the Ministry of Land and Natural Resource adding that his two-year contract ends in August.

They however alleged, in a report by citinewsroom.com, that Mr. Dawuda Mahama is lobbying some power brokers in government for another two years extension on his contract; an act which is fuelling tension within the Commission.

The workers are also of the view that an energetic person is needed to lead them in handling the complex land issues in Ghana, especially in the Greater Accra region.

According to them, the job has proved too tough for Mr Dawuda Mahama who is believed to be in his 70s.
"In fact, so much was expected of our Executive Secretary when he was given the mandate because of the nature of disputes and litigations over land ownership amongst other things but it's clear that nothing much has changed," they said.

They also voiced their disapproval of politicians appointing retirees to head various state agencies.

"The idea of politicians giving retirees contract extensions to head agencies of State must stop because it's a big blow and disincentive for long-serving staff at some of these State institutions who work so diligently and wait to be promoted to those positions for long term service only to be disappointed in the end. To the point where we are now even importing retirees from outside and giving them contract is even more absurd," they added.

Meanwhile, there have been reports of a syndicate at the Lands Commission working with Nigerian criminal gangs and the Ghana Police Service to steal land and forge documents belonging to chiefs, genuine landowners and property developers.

The syndicate has been accused of being responsible for several land disputes which have ended up as cases in court.