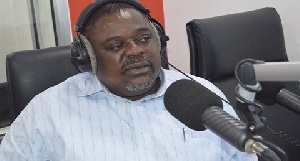 A deputy general secretary of the National Democratic Congress (NDC), Koku Anyidoho has asked his party members to learn from the ruling New Patriotic Party (NPP) how it wonderfully reveres its party structures and demonstrably showed it at its just-ended national conference in Cape Coast
He said apart from the recognition and respect accorded the hierarchy of the party and its structures at the national conference, the NPP also gave first-class treatment to all delegates from invited sister political parties which could be described as unprecedented in the constitutional history of this country.

"I was very touched by what I saw and experienced in Cape Cost with the rest of my colleagues who were delegated to represent the NDC. Right from Cape Coast after the whole programme, we were given dispatch riders to escort us to the outskirts of Cape Coast and I commend highly people like acting general secretary, John Boadu; national youth organiser, Sammy Awuku; acting national communications director, Adomako Barfi and the deputy minister for the Interior, Henry Quartey who made sure we were very comfortable and felt at home during our stay in Cape Coast," he said adding that when he was exchanging pleasantries with President Nana Akufo-Addo on Saturday morning at the venue of the conference, the president also showed concern about his safety and treatment given to them by asking whether they were 'Ok' or not.

"In fact, President Nana Akufo-Addo even surprised me with his openness and inquiry about our safety and welfare at the conference," he said.

He revealed that he also met President Akufo-Addo in Koforidua during the funeral of the wife of Hopeson Adorye last weekend and exchanged similar pleasantries with him and even later had some discussions with him which he (Koku) was not prepared to share in public.

Koku Anyidoho made these disclosures yesterday on Okay FM's morning show when he was called to share his views on the NPP conference held at the University of Cape Coast on Saturday during which he led a delegation from the NDC to grace the occasion and give a fraternal message.
He said the way NPP gave all regional chairmen the needed recognition by giving them special seats on the dais as well as publicly introducing all of them to the conference was worth emulating by the NDC.

He said all the national executives were also given special recognition while appointees and MPs were also asked to stand to be recognised and also made to know that they had been appointed to those positions on the strength of the party and should therefore be always there for the party.

"I really appreciated what I saw and hope we as party will also learn from that because clearly one could see that the NPP's party structures were there and were duly respected and recognised at their conference," he stated.