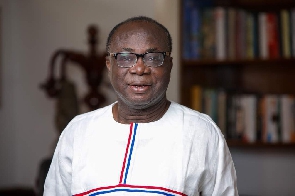 Member of Parliament for Juaboso constituency, Hon. Kwabena Mintah Akandoh has called on the leader of the New Patriotic Party (NPP) and the current President of the Republic of Ghana, Nana Akufo-Addo to order Freddie Blay to step down as the Board Chairman of the Ghana National Petroleum Corporation (GNPC) as soon as possible.
Hon. Mintah further said that there should be an effective investigation about Blay's 275 buses because there is obviously a loophole somewhere.

"So Freddie Blay is telling us that, the bank that helped him acquire all these 275 buses is the same bank which was accused of being a channel through which Former President Mahama laundered the state's money for his brother, Ibrahim Mahama? Let's even put that aside.

We have to be very careful, Freddie Blay should be properly investigated. The people of Ghana should know that he is not any private business owner who has his own business, he is a public officer, he is a board chairman of GNPC. It's so clear he used the state's money to do all these unnecessary things." He said to Peace FM.
Hon. Akandoh also urged members of the New Patriotic Party to be careful of their actions, because their actions do not affect them alone but the members of the National Democratic Party and the people of Ghana in general.