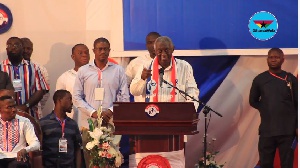 Former President John Agyekum Kufour has charged members of the ruling New Patriotic Party (NPP) to be mindful of what the elephant family stands for.
Delivering a message at the National Delegates Conference being held in the Central Region, the former president said, the party's DNA was to come and discharge a duty to this nation. The gentle giant as he is popularly referred to said, the party's duty is to bring the nation out and enrich the people adding, not just the party people but the entire people of Ghana into a property owning economy. The NPP should never forget that its central duty as a party, is to take Ghana out of the mess ''that unfortunately for us we've been left into by the other side, Let me put it that way, he said.

Mr. Kufour stressed that it's taken the NPP a long time to come into government and now that we have it, and there is so much to do; unfortunately the term of office is so short. We must keep on winning probably three, four or five times before the roots will go deep and we will become the party of the nation.''

He entreated party members not to do or say anything or conduct themselves in any way that will sabotage the young government of Akufo-Addo.
He said anyone who will do so maybe someone who lacks understanding of the vision of the party. He advised individuals who have criticisms to do so indoors instead of washing the dirty linen of the NPP in public.

"In the short term, I want to l entreat each and every one of us not to do anything or say anything or conduct ourselves in any way that will rock this young government, you do that, then you are just not seeing the vision with which the party was founded. If you have criticism, please render the criticism indoors. We don't wash dirty linen in the public, that's an old adage," he said.