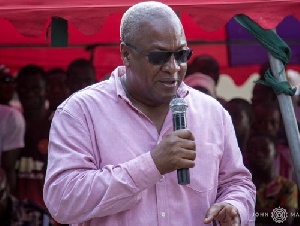 Former President John Mahama has scoffed at the ruling New Patriotic Party over the supposed funding for the 275 buses purchased by the party's aspiring chairman Freddie Blay.
Mr Blay as part of his campaign for the chairmanship position of the party promised to purchase the buses for distribution to the various constituencies across the country. The buses that are believed to cost over $11 million dollars are reportedly funded by Merchant bank.

The vehicles which arrived three days to the NPP national delegates' congress scheduled for Koforidua in the Eastern has become topical as many have accused Mr. Blay of vote buying.

Commenting on the development, Mr. Mahama wondered how a bank the NPP in opposition, claimed was bought by his brother Ibrahim Mahama, could now be financing such a deal by their acting chairman.

"$11.4 million Freddie Blay buses ahead of NPP election financed by Universal Merchant Bank? I thought Merchant Bank was sold to my brother, Ibrahim? So Ibrahim Mahama's bank financed the 275 buses for Blay & NPP? LOL!," Mahama wrote on Twitter Friday night.
Mr. Ibrahim Mahama's relationship with the then state bank became political after it came to light that he had borrowed huge amount of monies from it even though he appeared as a long time customer of the financial entity. The NPP at the time made political capita out of it in view of Ibrahim 's relationship with the then President.

Members of the ruling party have currently converged in Koforidua to elect new national executives. Mr. Blay is being contested fiercely by another party stalwart Stephen Ntim for the Chairmanship position.




$11.4 million Freddie Blay buses ahead of NPP election financed by Universal Merchant Bank?
I thought Merchant Bank was sold to my brother, Ibrahim? So Ibrahim Mahama's bank financed the 275 buses for Blay & NPP? LOL! pic.twitter.com/kmAJP7Lnlv

— John Dramani Mahama (@JDMahama) July 6, 2018