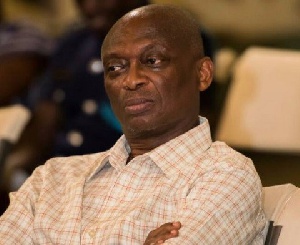 Editor in Chief of the New Crusading Guide newspaper Alhaji Abdul Malik Kweku Baako has jabbed former President John Mahama over his comment regarding the purchase of 275 buses by aspiring National Chairman of the New Patriotic Party Freddie Blay.
This morning on Joy FM's News File show, AKweku Baako said that ex-President Mahama was now doing 'low politics'.

Kwaku Baako expressed shock about the tweet of the former President. He couldn't believe Mr Mahama and that tweet.

"This post is from President Mahama?", a shocked Kwaku Baako asked.

"This is needless. I don't think President Mahama should get into these things, this is below him." He added.

"It is not President Mahama who should react to this. I'm not sure President Mahama should be the right person to comment on this, that's my view. I'm surprised, I expect John (Jinapor) to do that, not he himself doing it."
The crux of the matter is that Mr. John Mahama had wondered how a bank the NPP in opposition, claimed was bought by his brother Ibrahim Mahama, could now be financing such a deal by their acting chairman, Freddie Blay.

"$11.4 million Freddie Blay buses ahead of NPP election financed by Universal Merchant Bank? I thought Merchant Bank was sold to my brother, Ibrahim? So Ibrahim Mahama's bank financed the 275 buses for Blay & NPP? LOL!," Mahama wrote on Twitter Friday night.

Ibrahim Mahama's relationship with the then state bank became political after it came to light that he had borrowed huge amount of monies from it even though he appeared as a long time customer of the financial entity. The NPP at the time made political capital out of it in view of Ibrahim 's relationship with the then President.