Missing phones, molested journalists, mistaken arrest – Stories that marred #OccupyJulorbiHouse demo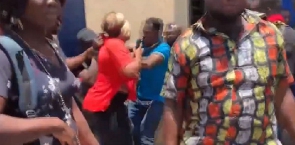 A peaceful demonstration organized by "Democracy Hub" dubbed #OccupyJulorbiHouse ended as quickly as it started when police illegally arrested protestors for alleged breaches of a court injunction.
The protesters were marching on the presidency demanding government act on the failing economy and tackle corruption.

The date of Thursday, September 21, 2023, coincided with the birthday of Ghana's first president Osagyefo Dr. Kwame Nkrumah; what started on the street ended in about eight police stations dotted across the capital.

However, the aftermath has brought to light a series of troubling incidents, including a wrongful arrest, allegations of missing mobile phones, and the molestation of journalists covering the event.

Mistaken arrest

A young basketball player, with no affiliation to the protest, was mistaken for a demonstrator and arrested alongside other participants. The young boy, returning from a training session on that fateful morning, was apprehended without cause.

According to the mother of the young boy, she received a distress call informing her of her son's arrest.

Speaking to GhanaWeb, the mother who wished to remain anonymous, said her son was mistaken for a protester because he was wearing a red T-shirt.

The visibly distressed woman mentioned that she has not been able to reach her son since arriving at the Accra Regional Police Headquarters.
Also, BBC reporter, Thomas Naadi and his cameraman were reported to have been arrested by the police during the demonstration and taken into custody before their released after they identified themselves.

Journalists targeted and molested

The protest also saw journalists subjected to violence and harassment. Ghanaian TV personality, Bridget Otoo, shared her harrowing experience.

"I was holding a guy's phone, he was live on Twitter, now X and I was talking in the space because a question was asked on what was happening on the demonstration grounds.

"While I was talking and holding his phone, the police charged at us for doing absolutely nothing, attacking him. He ripped my bag and they pulled my dress and now I have a ripped dress," she lamented.

Another Metro TV reporter, Vanessa, echoed Otoo's sentiments, stating that she was severely brutalized.

"More than six police officers, you have no idea I am so traumatized, so what happened was they were taking one person in and they were beating the guy mercilessly so I was taking shots of what was going on and immediately more than six police officers surrounded me put my hands behind my back,"

Missing Phones
Multiple reports emerged of missing mobile phones. One protester alleged that he was slapped and had his phone confiscated by an unknown individual, who then took the device inside the police headquarters.

"We were doing a peaceful protest and we heard our people have been arrested so we came here to see how our lawyers can get them out, and all I saw was they were just beating our lawyers and the media was covering and everybody was taking his phone to cover.

"By the time I realized, somebody just slapped me and took my phone, I don't know whether he is a police officer or not; he just slapped me and took my phone inside (the police station), so as I speak they have taken my phone to the headquarters."

Similarly, Metro TV reporter Vanessa reported that her mobile phone was taken by the police during the incident, and its whereabouts remain unknown.

Background

On Day 1 (September 21) of the #OccupyJulorbiHouse protests by the Democracy Hub, a group of young activists; police illegally rounded up 49 protesters who were marching to demand action on prevailing economic crisis and corruption.

The illegal arrests, especially how they were conducted by the police triggered harsh criticism of impeding the constitutional right to protest and deploying highhandedness on the part of police.

Police sent the detainees to the regional headquarters before splitting them up to about eight police stations dotted across the capital, even as colleague protesters and lawyers worked to secure bail for the illegally detained persons.
In this process, other journalists and protesters who massed up, especially at the Accra Regional Command encountered some amount of police violence including shoving, forced detention, seizure of phones, and in the case of other physical assault.

In their first of two statements on the day, police said the illegal arrests were justified because protesters were defying a court injunction served on them, which process they denied had been properly served.

The second statement addressed the purported arrest of a BBC journalist and his cameraman, which reportage they dismissed as untrue.

By the close of the day, almost all illegally detained protesters per GhanaWeb checks had been released from illegal detention on bail, it remains to be seen whether Day Two of the three-day protest targeting the seat of government, the Jubilee House, will come off today (September 22, 2023).


Watch how one of the protesters was dragged into the precincts of the Accra Regional Police Headquarters and manhandled.

A policeman saw the crew filming and nearly destroyed the camera. #OccupyJulorbiHouse #JoyNews pic.twitter.com/a1KFYUfxUu

— JoyNews (@JoyNewsOnTV) September 21, 2023
#OccupyJulorbiHouse: They've attacked Vanessa! - Our broadcast journalist recounts how about 6 policemen assaulted her at the regional police headquarters#MetroNews pic.twitter.com/QVB7Tv8SUW

— Metro TV Ghana (@metrotvgh) September 21, 2023
"Someone slapped me and took my phone inside the Accra Regional Police Headquarters" - Protester#OccupyJulorbiHouse #3NewsGH pic.twitter.com/qBWHes2kkX

— #3NewsGH (@3NewsGH) September 21, 2023
Bridget Otoo recounts how she was assaulted by Police Officers at the Accra Regional Police Headquarters. #OccupyJulorbiHouse #TV3GH #3NewsGH pic.twitter.com/qE6J8w2BqI

— #TV3GH (@tv3_ghana) September 21, 2023
See what they're doing to Bridget Otoo Herh ???????? /#OccupyJulorbiHouse pic.twitter.com/qrqmHvHseH

— Mempeasem President (@AsieduMends) September 21, 2023
#OccupyJulorbiHouse: Bridget Otoo outlines what she wants to be fixed in Ghana. #JoyNews pic.twitter.com/4LbW9CQBZl

— JoyNews (@JoyNewsOnTV) September 21, 2023
AM/SARA
Click here to start the nomination process for the 2023 GhanaWeb Excellence Awards
Ghana's leading digital news platform, GhanaWeb, in conjunction with the Korle-Bu Teaching Hospital, is embarking on an aggressive campaign which is geared towards ensuring that parliament passes comprehensive legislation to guide organ harvesting, organ donation, and organ transplantation in the country.
You can also watch this episode of People & Places on GhanaWeb TV: