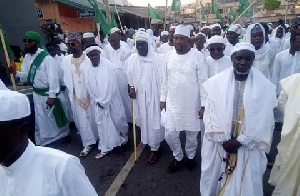 There was excitement galore at Sekondi Zongo when the National NASARA Coordinator of the ruling New Patriotic Party (NPP), Abdul Aziz Haruna Futa, joined the Muslim faithful in the area to celebrate the birthday of Prophet Mohammed, which is also called Maulud.
Maulud is the observance of the birthday of Prophet Mohammed which is commemorated in Rabi' al-awwal, the third month in the Islamic calendar.

Speaking to DAILY GUIDE in an interview, Haruna Futa mentioned that Prophet Mohammed was an embodiment of peace and unity and the celebration of his birthday was aimed at preaching peace to the world.

He therefore urged Muslims across the country to eschew violence and love one another in order to live in peace and harmony.

He also advised the youth in the Zongo communities to embrace education, particularly now that the current government had introduced the free senior high school policy and resist any attempt to be used to cause violence.

He said government through the Youth Employment Programme has created more modules to cater for the teeming unemployed youth.
He urged the youth in the Zongo communities who lack formal education to apply for jobs through the office of the Youth Employment Authority.

He pointed out that the Zongo Ministry and the government had come out with pragmatic policies that would help develop the Zongos.

He indicated that the Zongo Development Authority set up by the government had been tasked to identify key challenges in the Zongos for the much needed facelift expected to address deplorable conditions there.

NASARA Coordinator mentioned that the Zongo Development Fund was geared towards providing Zongo communities with basic amenities which they have been without for decades.

"The Zongo communities have started enjoying the benefits of the Zongo development fund", he indicated.
The Ministry of Inner-Cities and Zongo Development had started constructing artificial football parks in the Zongo communities throughout the country to help groom upcoming sports enthusiasts in the Zongos.

Alhaj Labib Imam Ali, Western Regional NASARA Coordinator mentioned that the government's flagship programmes being implemented would significantly improve conditions in Zongo communities.

He noted that the establishment of the Ministry of Inner-Cities and Zongo Development has demonstrated the commitment of government to bring real development to Zongo communities.