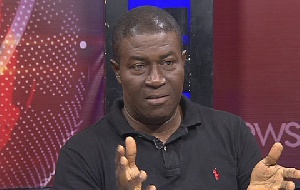 The Director of Communications for the New Patriotic Party (NPP), Nana Akomea, has revealed that President Nana Addo Dankwa Akufo-Addo is going through the process of appointing him as Chief Executive Officer of a state institution.
According to him, there are some laid down processes that must be followed in appointing a CEO to that institution and so the president is going through that process to ensure he does not violate the law.

His comments come at a time some supporters of the New Patriotic Party (NPP) are calling on the president to appoint some members of the party they feel deserve positions in government given their contribution to the party's victory in last year's elections.

For instance, the party's former general secretary Kwadwo Owusu Afriyie (Sir John) has been in the news for having said that the president will not give him any appointment any time soon.

He was widely speculated in the media as having been pencilled by the president for appointment as Director-General of the Ghana Ports and Harbours Authority (GPHA), but got overlooked for another person.
Some supporters of the NPP fear Nana Akomea has also been overlooked by the president.

However, speaking in an interview on Asempa FM's Ekosii Sen on Wednesday, 1 March, Mr Akomea said: "I have told the president the position I want to occupy and he has agreed. There are laid down procedures for appointing a Chief Executive for that institution and so there is the need to follow the process so that the president will not violate the law."

"The president is going through the process. When he is done, he will make my appointment public."