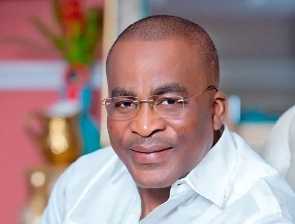 Secretary of the National Democratic Congress (NDC) in the Greater Accra Region, Theophilus Tetteh Chaie, has accused the regional chairman, Emmanuel Ashie Moore, of withholding funds meant for the transportation of delegates during the party's primaries.
Theophilus Tetteh Chaie stated that Moore was solely responsible for the disbursement of the funds, and delegates have raised concerns about not receiving the promised money.

These funds were provided by former President John Dramani Mahama ahead of the parliamentary and presidential primaries.

The amount promised to delegates was GH¢40 for transport after voting.

"Well, these are monies for delegates, and there was a channel for distribution. What I'm saying is that the resources were not distributed by the regional treasurer. It was the regional chairman who did the disbursement. The resources were put into our account, and it happened that the resources were withdrawn.
"And it is the party's regional chairman who disbursed the money, so the regional executives do not hold that responsibility. In effect, it should be the treasurer who should be held responsible. But since it is not the treasurer who distributed the money, why must we suffer for the disbursement of the money?" citinewsroom.com quoted the NDC's Secretary in the Greater Accra Region.

Some voting centers experienced chaos during the NDC primaries due to the delegates not receiving the expected GH¢40 including Ningo Prampram constituency

In the Sefwi Wiawso Constituency of the Western North Region, delegates threatened to boycott the primaries if they were not given the money.

YNA/OGB