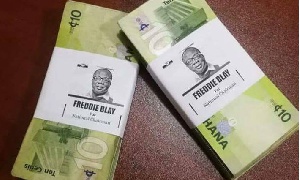 Supporters of NPP chairman-aspirant Freddie Blay has called on the public to disregard claims that their candidate is buying votes ahead of Saturday's contest at Koforidua.
It comes after pictures of bundles of cash with Mr. Blay's picture embossed on them emerged on social media Thursday night. The monies are alleged to be targeted at delegates who will be voting in the polls to elect National Executives of the New Patriotic Party.

Mr. Blay who is the acting chairman of the NPP is being keenly contested by Stephen Ntim who is a stalwart of the elephant family. A third candidate for the chairmanship position Dr. Amoako Baah is often overlooked by the media and analysts watching the polls.

In a press statement Thursday night, the Youth 4Blay said their candidate's reputation is being ruined by elements in the opposition NDC with support from Mr. Ntim's camp.

"Our attention has been drawn to a venomous virus of a propaganda been circulated across various social media platforms in the form of bundles of money with fake tag/seal of chairman freddie Blay.
"Not only do we see this as mischievous, but an evil machinations of the ndc which has unfortunately been bought by Mr Ntim's camp for petty political capital and propaganda. We the Patriotic Youth 4Blay want to strongly urge all well meaning Ghanaians and party faithfuls to treat the said propaganda piece with the greatest of contempt it deserves," the statement said.

It added: "Not only does is seek to tarnish the hard worn reputation of chairman Blay, to to denigrate the NPP party and the Nana Addo government. This is obviously an attempt to paint the ruling party black in the sight of Ghanaians

We again want to use this opportunity to caution Mr Ntim and his team to desist and refrain from negative campaigning and personal attacks which only goes to bring division and cracks in the party. We believe that this is only an internal elections thus all must be cautious of what we say to our opponents".