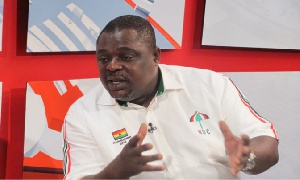 Deputy General Secretary of the opposition National Democratic Congress (NDC), Koku Anyidoho, says they will not hold back their demand for the governing New Patriotic Party (NPP) to ensure peace prevails in the country.
Delivering his goodwill message on behalf of the opposition party at the 25th Annual Delegates' Conference in Cape Coast in the Central Region, Saturday, August 26, 2017, Koku Anyidoho urged the NPP to maintain the peace in order for the country to develop.

"There is too much tension in the country as a result of the waning confidence of the electorate and as political parties and politicians; we must quickly restore trust and confidence.

"The NDC shall not sit idly by and allow the Delta Forces and Invisible Forces to hold this nation to ransom as we continue to call on the law enforcement agencies to apply the rules of State without fear nor favour," Anyidoho stated.

The deputy general secretary of the opposition party, however, assured the governing party of their support, to maintain the beautiful democracy currently being practiced in the country.
"The NDC shall never wish evil upon the NPP; we shall always wish you well!

"However, we shall not shirk our responsibility of keeping you on your toes and planting your feet on the flame of good governance and accountability.

That notwithstanding, Mr. Anyidoho said: Ghanaians shall not allow you to dissipate the nation's scarce resources in an unacceptable manner."

"Ghanaians shall make you account for every pesewa of the taxpayers' money; we shall continue to inform and educate Ghanaians in ways that will keep them alive to either your good or bad styles of governance."