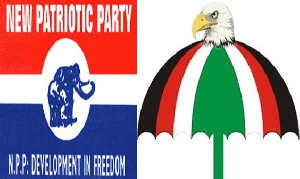 The council of elders of the New Patriotic Party in the Walewale constituency has summoned the communication team of the National Democratic Congress before the West Mamprusi District Police commander.
They have been accused of criticising the Vice President Dr. Mahamudu Bawumia on his presentation of the NPP's 100 days achievements. The NDC communicators on Wednesday April, 19 2017 on a local radio station Eagle FM rebutted the 100 days achievements touted by the NPP.

The programme which was a paid-for slot was to afford the National Democratic Congress the opportunity to contribute to a discourse about the country.

The show hosted by Mc Dabara Romanus with three communicators of the NDC led by Abdul Razak Imoro has been described by the NPP as an "intended plan to vilify the vice president", a move the NPP said it will not tolerate.

According to the NPP council of elders the utterances of the NDC communicators, especially vilifying the personality of the Vice President who is a native of the area, could spark violence.

In the presence of the West Mamprusi District Police Commander DSP Bempah, the NPP further said the NDC guys used "bad language which can lead to tension in the constituency".
But, the NDC communicators maintained that "they said nothing wrong but only pointed the inaccuracies in the Vice President's presentation on the achievements of the Nana Addo-led administration.

"We only reminded the government of its promises to the people of Mamprugu and also asked that they continue with the projects the NDC started and we don't see anything wrong with that", Abdul Razak Imoro insisted.

The mediator, DSP Bempah revealed the security agencies would not tolerate indecent language on radio. He advised both sides to engage in constructive criticism and avoid comments that will threaten the security of the district.

"Anything that will bring the name of the district to disrepute will not be encouraged, we need a peaceful atmosphere for the community to develop," he cautioned. He entreated all and sundry to stay united, since almost everyone in the community is more or less related to a brother or sister who is either in the NPP or NDC.

Meanwhile, Imoro Abdul Razak has stated that the move by the NPP is an attempt to silence the communicators of the NDC.