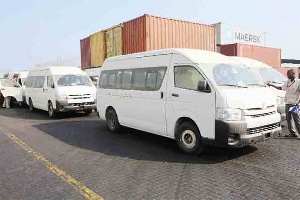 A historian and head of Institute of African Studies at the University of Ghana, Dr. Ebenezer Ayesu, has slammed the National Democratic Congress (NDC) for demanding a probe into the purchase of 275 buses by the Chairman of the New Patriotic Party (NPP).
According to the historian, the NDC lacks the moral authority to demand probity and accountability on the same issues they have not accounted for.

Freddy Blay, then acting Chairman and aspiring Chairman of the NPP reportedly acquired a loan from the Universal Merchant Bank (UMB), to purchase 275 minibuses in fulfillment of his campaign promise.

The Ghana National Petroleum Corporation board chairman was reported to have made a downright payment of $ 3 million as part of a total sum of $11.4 million.

The issue has since stirred a lot of controversy in the political space with the Minority in Parliament demanding Freddie Blay to relinquish his position as the Board chairman of the GNPC for an independent forensic audit into the accounts of the Corporation.

According to the minority MPs, they are alarmed by the "historic levels of profligacy" by Mr. Blay in his campaign that led to his election as the party's chair in last Saturday's national executive elections in Koforidua.

But Dr. Ebenezer Ayesu argues that if the NPP must be investigated then the NDC must be investigated first.
"I support and I also call for investigations into the building of their party headquarters, it was also built when they were in power, so it is simple thing that we need to work on", he told Winston Amoah on 3FM's Sunrise.

He maintains that he who demands accountability must come with probity citing a biblical parable to support his stance.

"Jesus Christ said, here is the woman if you know you have not sinned before cast the first stone", he said.

Dr. Ebenezer Ayesu added that Civil society groups and the smaller political parties can make such demands but not the NDC because "You can't go and steal a fowl and turn around and ask for someone who stole a Guinea fowl to be investigated".