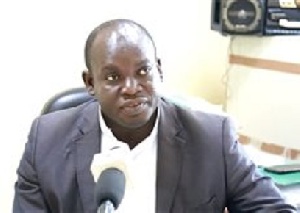 Former Executive Secretary of the National Labour Commission (NLC) and National Democratic Congress (NDC) parliamentary candidate for the Bongo Constituency for the upcoming 2024 General Elections, Lawyer Charles Bawaduah has admitted to giving party delegates up to GH¢500 Cedis each during campaigns for the parliamentary primaries but explained that the money was meant to facilitate their movement and feeding on election day and not to buy their votes.
Lawyer Bawaduah stressed that giving the delegates money was solely meant to enable them to partake in the important exercise of electing a parliamentary candidate for the NDC and nothing else.

He made this known on Bolgatanga-based Dreamz FM while responding to accusations of vote buying levelled against him by one of his contenders in the recently held NDC parliamentary primaries Prof. Ephraim Nsoh Avea.

Prof. Avea had accused lawyer Bawaduah and the other contender, Edward Bawah of vote-buying. But Mr. Bawaduah has dismissed the accusations, insisting that he was merely offering assistance for travel and transportation ( T&T).

"So for us, it ranged between 50 cedis to, some few people getting 500 cedis. It ranged between that. So some got 100, some 200 cedis, some will get 300 depending [on the distance and circumstances]… some people carried others in their vehicles. And if you're carrying about 4 or 5 people in your vehicle, you'll get 500," he revealed.
"The thing is that we are dealing with a community where most are not employed. You have situations where some of the delegates don't even have anything in terms of cash. So you expect them to walk if you don't provide the transport?

You can't expect them to walk so you must make transportation available and like I said, we had a similar experience in the constituency executive election. A lot of them went home without voting…You're bringing people together; you have to make arrangements for their feeding, you have to make arrangements for water, you have to make transportation arrangements. These are necessities that you must make arrangements for. I don't see what corruption about that," he explained.

Lawyer Charles Bawaduah won the Primaries with 535 votes unseating the incumbent Edward Bawah who had 509 votes. Prof Avea, who has been accusing his opponents of vote-buying, got 75 votes.