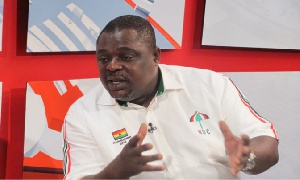 Deputy General Secretary of the opposition National Democratic Congress (NDC), Koku Anyidoho, has apparently not recovered from the shock that hit him and the party after their massive defeat in last year's general election. He revisited the party's famous 'comfortable lead' mantra in the 2016 polls over the weekend.
Sounding extremely confident, he stated categorically that "The NDC is still in the comfortable lead," attracting jeers from the charged audience.

The occasion was the 2017 annual Delegate's Conference of the ruling New Patriotic Party (NPP), which was held in Cape Coast, the Central Regional capital.

The NDC delegation which was at the event by way of solidarity included top party gurus such as outspoken Allotey Jacobs and Kwaku Boahen, deputy communications officer.

"The NDC is still in the comfortable lead," he stressed when delivering the party's goodwill message to the teeming NPP delegates on Saturday.

Before Mr. Anyidoho could complete his "comfortable lead" statement, the charged NPP delegates, in unison, started to jeer at him.

The NDC deputy chief scribe, who seemed unperturbed, then rephrased his statement, "We are still in the comfortable lead to win election 2020.
"We shall surely win the next election and invite the NPP to witness our conference just as we are doing today."

The NPP delegates, who had continually booed Mr. Anyidoho, seemed more fired up when Koku reframed his statement.

Earlier, the NPP delegates had chanted, "Away, Away, Away," which were directed at Mr. Anyidoho for singing an NDC song at the NPP programme.

Mr. Anyidoho, after mounting the podium, shocked the NPP members, as he started singing "The victory of the NDC is coming again…"

Mr. Anyidoho's few minutes on the podium seemed to have electrified the place as he sometimes, jokingly provoked the ruling party's delegates.

When he eventually veered into serious business, he charged President Akufo-Addo to fulfill all his campaign promises, notably, the Free Senior High School (SHS).
He said the NDC was impatiently waiting to see the NPP roll out all its lengthy campaign promises, which enabled the party to win the polls in 2016.

Mr. Anyidoho also charged the president to work to maintain the peace of the state, saying, "We left Ghana in peace and so want peace."

He concluded by acknowledging the huge gains made by Ghana in the democratic dispensation and entreated all Ghanaians to protect the country's democracy.

"For the fact that the NPP invited the NDC to its conference and the NDC also accepted the invitation, clearly shows that we are making gains," Koku noted.