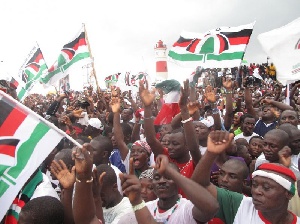 The National Democratic Congress (NDC) Youth Wing has backtracked on an earlier decision to block ex-President John Mahama from attending a scheduled meeting with President Nana Akufo Addo today, Tuesday April 18.
The NDC youth had insisted it will be a wrong move for ex President John Mahama to attend the event and share ideas with President Akufo Addo, after the ruling New Patriotic Party (NPP) consistently described him as an incompetent president while he was in office.

Speaking on Kasapa News, leader of the group, Kweku Philip noted that ex President Mahama will find himself in an 'unfriendly' company if he attends the programme.

But Kasapa FM's Baffuor reports that the intended move this morning was a poor spectacle as only two persons were spotted at the party's headquarters suggesting a total flop of the protest.

"We saw on our various platforms the intended decision to block fmr. President Mahama. But upon hindsight we realized that it was not a healthy engagement because we have once condemned the NPP youth of a similar move. So we can't be seen to fall afoul of what we have criticized before. Our leaders have thus issued a statement to stop us from embarking on the move. After all this is not what is crucial at this time. We need to regroup for the challenge ahead of us in 2020," one of the NDC youth told Kasapa FM.
President Nana Akufo Addo will hold discussions with former Presidents of Ghana at the Flagstaff House today.

The event will afford the President the opportunity of tapping into the rich experience of the former leaders including ex Presidents J.J Rawlings, J. A Kufour and John Mahama.

The leaders are expected to hold frank talks with the President, one that will advance the course of the nation. This will be the first time the first gentleman of the land is meeting with his predecessor in such planned event.

President Akufo Addo has already stated that he's in a hurry to develop Ghana and enhance the living conditions of the citizens and his handlers say he'll stop at nothing at realizing his objectives.