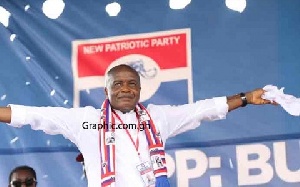 Four-time failed National Chairman Aspirant of the governing New Patriotic Party (NPP), Stephen Ntim, has said he will rely on research regarding his loss at the party's 26th National Delegates Conference in Koforidua on Saturday, 7 July 2018, to decide whether or not he gives it a fifth go.
"I need to do research. Every action that I take is based on research report findings; that is what I am going to rely on," he said in response to a question by Moro Awudu on the Executive Breakfast Show on Class 91.3FM as to whether or not he would run again.

Mr Ntim has been a long-standing member of the NPP before Mr Blay left the CPP to join the Danquah-Busia-Dombo family, but party delegates on Saturday, 7 July, chose the former CPP stalwart over the System Engineer.

Despite his fourth try, Mr Ntim polled 2,515 votes as against 3,021 of Mr Blay with third aspirant Dr Richard Amoako Baah managing just 18 votes.
His loss notwithstanding, Mr Ntim has pledged his support and loyalty to the party.