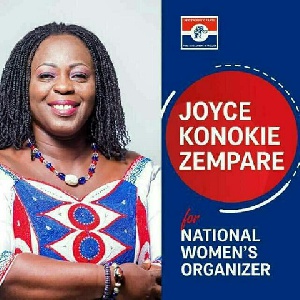 Mon, 14 May 2018 Source: Daniel Kaku
The National Women's Organizer hopeful of the ruling New Patriotic Party (NPP), Joyce Konokie Zempare has wished all responsible mothers in Ghana and across the Globe a happy Mother's Day for the exemplary life of love and hard work.
In a statement issued and signed by the Aspirant on Sunday, May 13, 2018 to mark the celebration of Mother's Day indicated that mothers have shown that motherhood is not just about giving birth but it involves bringing out the best in everyone.

"May this occasion birth in you Love, Hope, Peace, Peace, Kindness, Longevity, Goodness, Frugality and many more. We are who we are today because of you", he said.

Below is the full statement

HAPPY MOTHER'S DAY TO ALL OUR LOVELY WOMEN - JOYCE KONOKIE ZEMPARE

As we celebrate all Mothers today, I would like to use this opportunity to thank all Mothers in Ghana and across the Globe for the exemplary life of Love, Compassion, Hard Work, and Thoughtfulness.
You have always been the first Friend we have known and have always stayed by our side. As Rudyard Kipling will say "God could not be everywhere and therefore he made mothers"

Mothers have shown that Motherhood is not just about giving 'birth', but it involves bringing out the best in everyone.

May this occasion birth in you more Love, Hope, Peace, Kindness, Longevity, Goodness, Frugality and many more. We are who we are today because of you.

I say Ayekoo to all our lovely Mothers.

JOYCE KONOKIE ZEMPARE WeAreInThisTogether
Source: Daniel Kaku