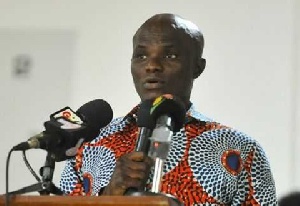 The Central Regional Branch of the New Patriotic Party (NPP) has condemned the attack on Francis Ato Cudjoe, Member of Parliament (MP) for the Ekumfi Constituency, in the Central Region last Saturday.
Some irate youth at Ekumfi Eyisam accused the MP of allegedly failing to fulfill his campaign promises to them in the run-up to 2016 election. He promised to establish a senior high school in the community and create employment for the youth which enticed many people to vote for him.

According to the youth, he also failed woefully to initiate moves to address the issues.

The MP, who doubles as the deputy Minister of Fisheries and Aquaculture, was in the community to grace their annual Akwambo Festival. The youth who appeared incensed accosted him for neglecting them after the election.

Speaking in an interview with the media in Cape Coast on Monday, Tekyi Mensah, the Regional Secretary of NPP, described the act and similar others in recent past as the underhand dealings of the opposition National Democratic Congress (NDC).

He called on the leadership of NDC in the region to bring to order their thugs who were bent on impeding government's development efforts and said that the law would ruthlessly deal with people found to have contravened the laws.

The party must also educate the youth to restrain themselves from committing any form of provocation that were likely to disrupt the peace in the region. He advised the youth to endeavour to eschew vandalism, 'machoism' and intimidation and render their unalloyed support to the government to facilitate development in their localities.
He stated that regardless of the vile propaganda by the NDC to disrupt the government's development efforts, it remained resolute and determined to transcend accelerated socio-economic development across political, ethnic, religious and geographical borders.

According to him, no amount of intimidation and confrontations would stop the government and the MP from achieving their development agenda in the districts.

Last year, the president cut the sod for the construction of the first factory under the 'One District, One Factory (1D1F)' industrialisation programme to create employment for the youth in the area.

He described the act as shameful and repulsive to Ghana's remarkable democratic gains, for which reason it must be condemned by all sincere Ghanaians.