Thousands of delegates who amassed at the Koforidua Technical University to endorse their various candidates of preference in the NPP national elections Saturday morning are still at the grounds, unperturbed by the fall of night, they remain steady till the last ballot paper is counted and winners declared.
Buses remain empty as representatives from the various regions refuse to move till they get the results for which they voted.

Sects at the grounds are chanting praise songs for their candidates while others just sit anxiously in wait for the polls to be over and the results declared.

Majority of the positions have already been covered with a few more to go.

The NPP are electing national officers to steer the affairs of the party.

See the aspirants contesting for the various positions:

NATIONAL CHAIRPERSON

Aspirants

1 Hon. Freddie Worsemawu Blay

2 Dr. Richard Amoako Baah

3 Stephen Ayesu Ntim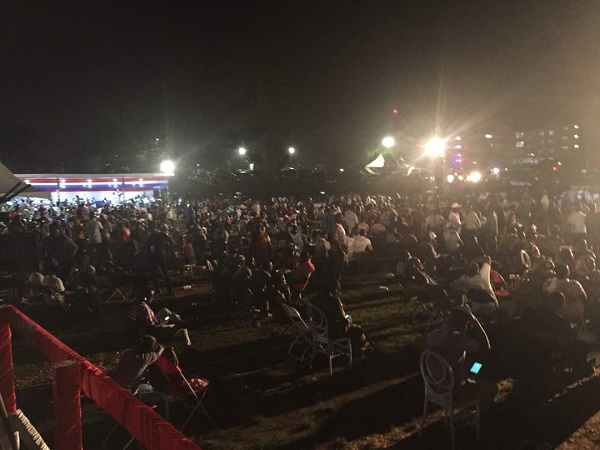 NATIONAL VICE CHAIRPERSON

Aspirants

1 Emmanuel Ken-Wuud Nuworsu K.
2 Rita Talata Asobayire

3 Micheal Omari Wadie

4 Vida Agyekum Acheampong

5 F.F Antoh

6 George Isaac Amoo

7 Hon Mrs Agnes .A. Chigabatia




GENERAL SECRETARY

Aspirants

1 John Boadu

2 Richard Ahiagbah

TREASURER

Aspirants

1 Kwabena Abankwah-Yeboah
2 Kwabena Oppong Frimpong

3 Mary Posch-Oduro

4 Hajia Ruka Ahmeed

5 Abrahim Obeng Amoakohene

6 Nuhu Bayorbo Mahama



ORGANIZER

Aspirants

1 Sammi Awuku

2 Tweneboa Kodua Emmanuel

3 Sulemana .A. Sadik Nabicheinga

NATIONAL YOUTH ORGANIZER

Aspirants

1 Henry Nana Boakye
2 Kamal-Deen Abdulai

3 Emmanuel Nana Bediako .D. Appiah

4 Dominic Kwesi Eduah

NATIONAL WOMEN ORGANIZER

Aspirants

1 Kate Gyamfua

2 Joyce Konokie Zempare




NATIONAL NASARA COORDINATOR

Aspirants

1 Abubakari Sulemana

2 Alhaji Rashid Adam

3 Ahmed Zaruk Nuhu

4 Iddrisu Abdulai Dipantiche
5 Alhaji Shuaibu Musah Sheriff

6 Baba Gado Ibrahim

7 Abdul Aziz Haruna Futa

8 Dauda Abdul Rahman Duodu

9 Alhaji Aminu Abu

10 Sulemana Alhassan Atakpo

11 Abdul-Rahman Diallo

12 Kazeem Ibrahim

13 Salihu Yahaya Bo

14 Ali Suraj