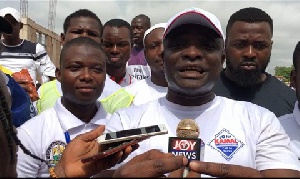 Former National Nasara Coordinator of the ruling New Partiotic Party (NPP), Kamal-Deen Abdulai says won the National Youth Organiser slot of the party "in the eyes of God", in the just ended National Delegate Conference held in Koforidua.
Despite his heavy defeat to the Deputy Executive Director of the National Service Scheme (NSS), Nana Boakye, otherwise known as Nana B, Kamal-Deen holds the believe that, since he worked very hard to be enlisted as an aspirant for the position, he is a winner together with the other aspirants of the National Youth Organiser position.

The National Youth Organiser position of the NPP was keenly contested by Kamal-Deen Abdulai, incumbent Deputy National Youth Organizer, Dominic Kwasi Eduah, Henry Nana Boakye and Appiah Dansah.

At the end of the contest, Nana Boakye a.k.a Nana B emerged winner by securing 423 votes with Dominic Kwesi Eduah garnering 243 votes. Kamal Deen had 102 votes with Appiah Dansah polling a paltry 1 vote.
However speaking to the media, Mr. Kamal-Deen said he worked very hard to ensure victory for himself but wasn't sad about the turn of events. To him, it's a victory for all the NPP family to celebrate and not to only Nana B.

"Victory is given by the Almighty Allah, if He says he will give it to you, you will have but if not, you can travel heaven and earth you won't get it, so I have that confidence, and all am appealing to my party members is that, let come together because the youth wing of the party is the engine of the party" he said.

While congratulating Henry Nana Boakye on his victory as the new elected National Youth Organiser of the party, he added that, the main victory of the party will be in 2020, hence the need to put heads together in ensuring another massive victory.