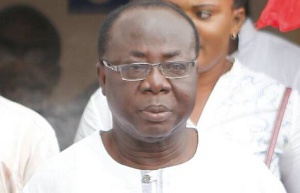 The ruling New Patriotic Party (NPP) will from January 17, 2018 hold its primaries to choose polling station executives, who will elect officers to manage the various constituencies across the country, Acting General Secretary John Boadu, has said.
Mr Boadu stated that the primaries would take place 17 days after the compilation of new register of members at polling stations and constituency levels throughout the country.

He made this known at the party's Extraordinary National Delegates' Conference in Kumasi over the weekend, under the theme, "Delivering on Our Promises, Our Roots, Our Strength and Our Future."

It was attended by President Akufo-Addo and Vice President Alhaji Dr Mahamudu Bawumia and his wife, Samira.

The acting NPP chief scribe revealed that the polling station elections would be followed by the election of Electoral Area Coordinators on January 22, 2018; election of constituency executives on January 23, 2018 and the election of Overseas' Chapter executives and branches on February 25, 2018.

Mr. Boadu disclosed that the election of national officers of the party had been scheduled to take place from 15-20 June 2018, pointing out that the party's internal competition had been designed to afford every member the opportunity to vie for a position or vote for any candidate of his or her choice.

According to him, aside the internal elections, the current national executives had established a platform to offer opportunity to all members to discuss policies and programmes of the government and make inputs.
"We are also far advanced in establishing a training institute to train people, promote NPP vision, identify and improve talents and inculcate in party faithful the core values, principles and ideals of the NPP," he announced.

Touching on proposals for amendment of the party's constitution, Mr Boadu said the NPP's constitution had been amended on three occasions since the party was formed on June 24, 1992.

These amendments took place in the month of August 1998, 2003 and 2009.

He said the constitutional amendment was necessary to ensure that the document continues to respond to the needs of members and reflect the aspirations of the party.

The NPP acting general secretary insisted that the proposed amendments are intended to ensure smooth operation of the constitution to avert unnecessary controversies, indiscipline and intractable litigation.

He said the members of the party at a National Delegates' Conference, must endorse an amendment to the (NPP) constitution.