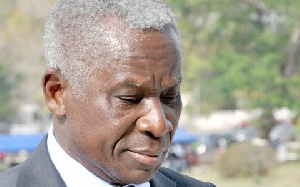 Former Chief of Defence Staff (CDS), Brigadier Nunoo Mensah has called on President Akufo-Addo to ban expensive official travels to save money.
Speaking to Kwame Tutu on Rainbow Radio 87.5Fm, he lamented that we waste money on unnecessary ventures that do not benefit Ghanaians.

According to him, the business class that state officials travel is too expensive and should be abolished.

The amount spent on expensive travels he added could be invested in other important ventures that will benefit us especially the youth in Ghana.

The outspoken former military capo said he never traveled in a business class when he was a state official.
He also slammed the usage of land cruisers by state officials wondering why we claim to be fighting youth employment yet, state officials are using expensive drives.

The amount spent in purchasing land cruisers could be slashed so our state officials would be made to use saloon cars to save more money for the state.

''We can save more money and spend it on agriculture. Food is now expensive in Ghana. That is ridiculous and I think we should be serious in this country.''