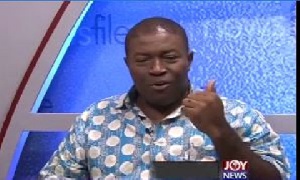 Nana Akomea, the director of communications of the New Patriotic Party (NPP) is said to have rejected an appointment by President Nana Akufo-Adddo to serve as managing director of the State Transport Company (STC).
According to asempanews.com which reported the news, Akomea angrily rejected the job because he deemed it a demotion.

"He thinks it's a demotion, but he must accept and hope for the best in future as he has no option.

I can't say he's agitated, but he was clearly unhappy the first time he got wind of it," the website quoted a source as saying.

Akomea is said to have expressed frustration at the offer, which he feels is way below his level, considering the role he played in bringing the NPP back to power.
The report indicated that even a deputy ministerial position will not be enough to appease the NPP communications director. In March, Akomea assured his supporters that Akufo-Addo had offered him a position as the MD of a top state company and that he had agreed.

"I have told the president the position I want to occupy and he has agreed.

There are laid-down procedures for appointing a chief executive for that institution and so there is the need to follow the process so that the president will not violate the law.

"The president is going through the process. When he is done, he will make my appointment public", he said. It is not clear whether Akufo-Addo withdrew the offer Akomea enthusiastically referred to.