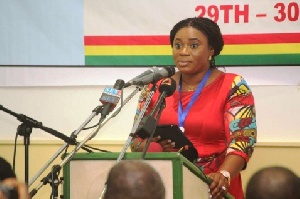 Sun, 1 Nov 2015 Source: GNA
Compiling a new voters register across the 30,000 polling stations could be a recipe for chaos, Mrs Charlotte Osei, Chairperson of the Electoral Commission (EC) has said.
She said given the entrenched positions adopted by the two main political parties – the New Patriotic Party (NPP) and the National Democratic Congress (NDC)- attempting to undertake registration for an entirely new electoral roll may have serious security problems.

Speaking at the second day of debate organised to seek for public opinion on the proposal, the EC Chairperson noted that the social context of politics cannot be ignored.

The NPP believes the electoral roll used for the 2012 general election is so "incurably flawed" it cannot be used for the 2016 elections, however, the NDC disagrees.

The NDC insist the NPP's claims of a register bloated are unfounded and must be rejected.

Mrs Osei said the EC has received an avalanche of complaints from the NPP, which would be addressed in due cause.
She said the EC desires to have a credible voters register and would work with the political parties and civil society organisations to get one.

A fundamental question, she said, however remains; do Ghanaians want a credible register?

"If the people and the stakeholders do not want a credible register, we won't have one," she stressed.

She said minors who find their names on the electoral roll must together with their parents be sanctioned.

"If we sanction a few minors and their parents, it will deter others from engaging the electoral offence," she said.
Source: GNA