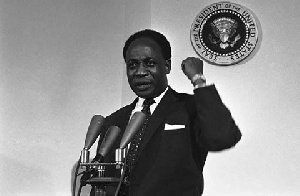 Ghana's independence happened as a result of the struggles of several leading figures, hence the attempt to tag Dr Kwame Nkrumah as the sole founder of Ghana is historically inaccurate, Dr Bonsu Osei Owusu, a lecturer at the Methodist University College, Accra, has said.
There has been contention over the celebration of Founder's Day – observed annually on 21st September, the birthday of Ghana's first president Dr Kwame Nkrumah – in Ghana. The day was set aside as a holiday by the administration of late President John Atta Mills but critics say the holiday serves to exclusively credit the Ghanaian and African icon with Ghana's independence when he actually achieved that with the support of others, especially the other members of the Big Six – Obetsebi Lamptey, Ako Adjei, William Ofori-Atta, J.B. Danquah, and Edward Akufo-Addo.

Echoing such sentiments during an interview with Katakyie Obeng Mensah on Accra News on Tuesday March 7, Dr Owusu commended President Akufo-Addo for using his speech during the 60th Independence Day parade on March 6, 2017 to celebrate the efforts of the other persons who played a part in Ghana's march toward independence.

"We seem to be pushing the unsung heroes into obscurity, so if the president mentioned the names of the others [who contributed to Ghana's] independence, I think it is in order. Nkrumah played his part but he was not the only actor [in our independence struggles], so it would be fitting to acknowledge the others," he explained.
According to him, singling out Dr Nkrumah as the founder of the country would be unfair as the likes of Paa Grant and others had initiated the struggle before he was flown in to aid the campaign towards self-rule, though it was Nkrumah who became the country's first prime minister and subsequently first president.

"So I believe that Founder's Day should actually be Founders' Day because he (Nkrumah) was not the only one involved in Ghana's emancipation. …If you say only one person's efforts led to our liberation, then it seems you want to skew history," the lecturer added.