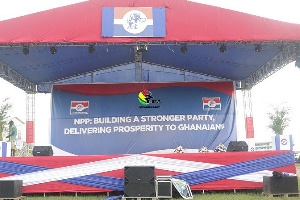 There will be no campaign on stage for the 42 aspirants at the 2018 National Annual Delegates' Conference of the New Patriotic Party (NPP), 3news.com has gathered.
Notwithstanding, there is no regulation by the party barring them from campaign for election since it has not been provided for in the party's constitution.

Speaking to TV3's Kwabena Adu Gyamfi at the grounds on Saturday, a member of NPP's election committee, Ursula Owusu-Ekuful, who is also the Minister of Communications, said adequate provisions have been put in place to ensure a smooth process.

She said there will be designated voting centres for the various positions to ensure that voting goes on simultaneously.

She reiterated the party's resolve to have the Conference not travelling into the next day.

Mrs Owusu-Ekuful estimates that all should be done with by 10:00pm on Saturday.
As a result, the aspirants will only wave to the almost 6,000 delegates when called on stage, she said.

The delegates will elect 10 out of the 42 aspirants to occupy various portfolios in the party for the next four years.

Aside one person each for the National Chairman, General Secretary, National Organiser, National Youth Organiser, National Nasara Coordinator, National Women's Organiser and National Treasurer positions, three persons will be elected for the first, second and third vice chairmanship positions.