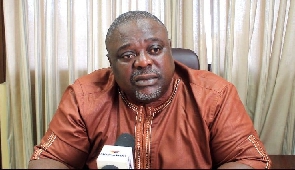 Former Deputy General Secretary of the National Democratic Congress (NDC), Koku Anyidoho, has disclosed that no member of the NDC sympathized with him when he lost his 8-year-old daughter in November 2020.
According to him, even though the party chairman, Johnson Asiedu Nketiah lives a few miles away from him, he did not pay him a visit whiles he was mourning his daughter.

He attributed the failure of Johnson Asiedu Nketiah to sympathize with him to accusations levelled against him by other party members that he wanted to assassinate former president John Dramani Mahama.

Speaking in an interview with Happy FM, Koku Anyidoho further said some NDC members also accused him of killing his daughter - Sitsofe - for ritual purposes.

"My little girl, Sitsofe Ablavi Mivormawu Anyidoho, died on 7th November (2020) then Rawlings died on the 12th. Asiedu Nketiah lives not too far from me, my little girl died, and they (NDC) didn't even send a dog from the headquarters to commiserate with me. Not a single soul from the NDC came to commiserate with me," he bemoaned.

Koku Anyidoho added that, "The worst part is that... a close associate of John Mahama called Dzifa Gunu … wrote on social media that I killed my own 8-year-old daughter, I didn't only kill her but I used her blood for ritual purposes.

"They said I wanted to kill John Mahama and they know the shrines I visited in Benin, Togo, India and other places. And that my child died because God loves John Mahama," he stated.
According to Koku Anyidoho, he was taken aback that former president John Dramani Mahama has stayed mute over the allegations levelled against him, among other issues that reared its head up in the party.

It would be recalled that Koku Anyidoho, in November 2020 lost his daughter, Sitsofe.

The 8-year-old girl died in an accident while travelling with her mother.



AM/ESA