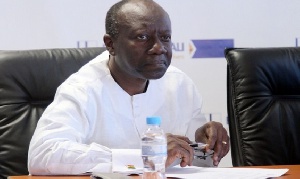 Finance Minister Ken Ofori Atta has justified the removal of and reductions in some taxes on goods and services in the country.
During last week's budget presentation, the Nana Akufo-Addo government abolished some taxes on a wide range of items in the country notably imported second-hand spare parts.

The opposition National Democratic Congress (NDC) has argued that the move is a populist gesture which cannot be sustained.

Speaking to Class News, Mr Ofori-Atta disagreed, explaining: "The issue was a deep belief that if you liberate people and the state is not coercive they would be able to be more productive and they will do more."

According to him government was "very committed to a private sector-driven agenda but also clear on what we call the preferential option for the poor so that in anything we do as the private sector becomes locomotive, the poor are not taken out", adding: "That is why the taxes are so expansive, covering everybody."

He noted that government had the interest of Ghanaians at heart and would not build the economy without involving the citizenry.
In fulfilment of their campaign promise, government announced the abolishment of the various taxes

1. The 1% special import levy

2. The 17.5% VAT on financial services

3. The 17.5% VAT on selected imported medicines not produced locally

4. The 17.5% VAT on domestic airline tickets
5. The 5% VAT on real estate sales

6. Duty on importation of spare parts

7. Kayayei market toll

Additionally, government is expected to initiate steps to remove import duties on raw materials and machinery for production.