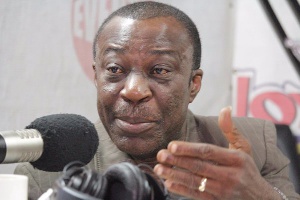 The Minister for Monitoring and Evaluation, Anthony Akoto- Osei, has said the Free Senior High School (SHS) programme to be rolled out in September this year will only cover first year students.
Government in its maiden budget statement disclosed it had budgeted GHS400million to fund the free SHS policy.

Speaking on how the Free SHS will be rolled out and how it would be funded, Mr Akoto-Osei clarified that the GHS400million and other sources of funding would be enough to cater for the new entrants to enrol freely in the various public senior high schools.

"Free SHS is for the people who are entering SHS for the first time [in September 2017] because that is when the policy kick starts. In three years, the full cycle will begin," he told Emefa Apawu on 505 on Class 91.3FM.
The Old Tafo legislator said it was not discriminatory for only the first year students to enjoy free schooling while the continuing students pay for their education.

He explained that high school education would be free for "those entering in the September 2017/2018 academic year, then the next batch comes, then the next", adding: "So, in three cycles, that is in three years' time, the entire stream of senior high school education will be free."

The legislator explained that those in school already without Free SHS would not be affected by the policy.