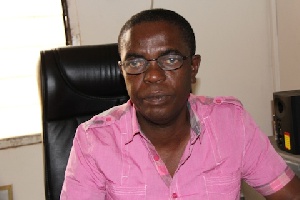 Managing Editor of the Insight newspaper, Kwesi Pratt Jnr says Police must not sit aloof for criminal matters to be swept under the carpet, urging the security to launch a quick investigations into the allegations made by the Gender Minister, Otiko Afisah Djaba and the NPP Northern regional Chairman, Bugri Naabu.
Pratt contends that it's not the job of the NPP's National Council to institute investigations into crime-related issues, insisting that it applied the appropriate sanctions in the matter.

"The Council of Elders of the New Patriotic Party(NPP) does not do police investigations. So that is not an area that the Council of Elders of the NPP can go into. They cannot ask the Police to invite any of them to provide evidence in the ongoing allegations. It is not their duty. Indeed what the National Council of the NPP can do, is simply what they have done. They have noticed misconduct, they have punished misconduct appropriately. As for inviting Bugri Naabu or not inviting him to come and help in criminal investigations, it's the duty of the Police. Unless you want the NPP to do the work of the Police," he said on Radio Gold's Alhaji and Alhaji programme Saturday.

The two senior party members for three consecutive days launched scathing attacks against each other with serious allegations some of which borders on criminality being made in the media.

Whereas Otiko has claimed the Chairman has taken goats and cows as bribes and promised people jobs, the latter on his part has accused the Minister and her colleague of being involved in the plot that led to the murder of Adams Mahama, the late NPP's Upper East regional chairman. A matter that is currently before an Accra High Court.
The conduct of the two officials have been roundly condemned by a large section of the public, who have decsribed the duo's behaviour as highly represensible.

The party's second highest decision-making body, the National Council reprimanded the two Thursday and bonded them to be of good behaviour over their recent public altercations.

But critics say what the two said borders on having information about the commission of a crime and hence must be be invited by the Police to help in criminal investigations.