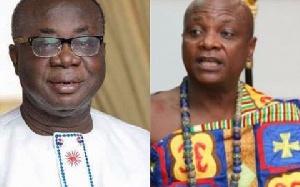 The Asogli State Council has, in a statement, demanded an unqualified apology from the Chairman of the governing New Patriotic Party (NPP), Freddie Blay, and the party itself, for using disparaging words to describe some recent concerns expressed by Agogbomefia Togbe Afede XIV.
Mr Blay had described as "palm wine business talk", a remark by the President of the National House of Chiefs that the 275 buses he (Blay) bought for the NPP ahead of its internal polls, smacked of corruption.

Togbe Afede's comments were thus: "Let me say that the frequency of corruption at elections is worrying because that sequence itself suggests the lack of trust and lack of transparency. And I think that we all have to work hard to minimise the frequency of perceptions of corruption and corruption. Nananom should lead the fight and should talk for transparency.

"Some time ago, it was one party building a multi-million dollar headquarters, we all sat down and did not complain. And recently, an aspiring chairman of a party buying several 275 vehicles.

"These are matters that should attract Nananom's attention. And I'm very happy that at least the latest one has attracted the attention of the special prosecutor. Unfortunately, the canker has spread so deeply".

However, an angry Freddie Blay described the traditional leader's remarks as arrogant palm wine talk.
Reacting to the NPP Chairman, the Asogli State Council, in a statement signed by Secretary Stephen Tetteh, said: "Our attention has been drawn to the above publication purported to be the reply of Freddie Blay, the Chairman of the New Patriotic Party (NPP), to Agbogbomefia Togbe Afede XIV on his advice to Nananom on the 275 buses saga.

"We take strong exceptions to the statements, names and comments in this reply as they are insulting and disrespectful.

"A statement such as this and from the President of the National House of Chiefs and an astute businessman does not warrant the kind of response from the National Chairman of the ruling party, a former First Deputy Speaker of Parliament and a lawyer.

"This statement, in our view, is aimed at addressing the issue of the perception of corruption and corruption and to repose trust in our leaders, thereafter. It also calls on the most noble and respectful indigenous institutions to be actively involved in the crusade. In addition, it applauded the current government that similar acts that have been swept under the carpet in the past, are being given the needed attention [they] deserve.

"Therefore, the Asogli State Council demand an unqualified apology from the NPP and its Chairman for this their misconduct and disrespect shown to Togbe with immediate effect. Since the NPP remained silent, we can only conclude that this might be part of their boardroom decisions. Failure to heed this clarion call and the next line of action would be announced ASAP. ENOUGH is ENOUGH".