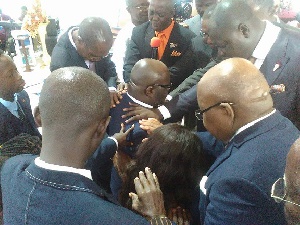 "…The effectual fervent prayer of a righteous man availeth much." - sayeth the Scriptures in James 5.16.
As Mike Oquaye prepares to set off to India for the 'battle' ahead, pastors have gathered, laid hands on the lawyer and have cried unto the Most High to protect and guide his steps.

Pictures uploaded on social media platform, Facebook, by one Pastor Alex Boamah of International Gospel Mission, capture a prayer session with some pastors as well as the Speaker of Ghana's Parliament and father of Mike Oquaye, Rt. Hon. Aaron Mike Oquaye.

Mike Oquaye was one of the twenty-two persons named in President Nana Akufo-Addo's second batch of ambassadorial postings charged to preserve and promote the image of Ghana whose reputation amongst the comity of nations is high.
He is to serve as Ghana's Ambassador to India. He has a deep understanding of the Indian culture and diplomacy and many have expressed optimism he would succeed.