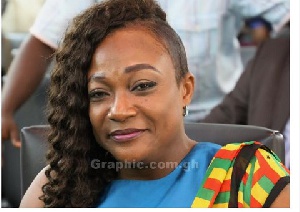 Minister of Gender, Children and Social Protection, Otiko Afisa Djabah has said she'll use the Upper West Region as a measure of her success as a minister.
According to her, once poverty is reduced in the Region which has the highest level of poverty prevalence, she'll know that she's succeeded in realizing her objectives.

"The more we reduce poverty in Upper West beacuse this is where the prevalence of poverty is highest, then I'll know that we're succeeding, if we are not doing too well here, then it means things are not going on well in the country. I'll also ask that there should be collective responsibility from all of us, in area of galamsey which is destroying our water bodies. As a people we have to focus our employment skills…the one district one factory project is coming, $1 million per constituency etc, so that we can have alternate jobs so we don't destroy our water bodies."
The Minister was speaking when she paid a courtesy call on the Upper West Regional Minister on Tuesday as part of her two-day working visit to the region.

Hon. Otiko Afisa Djaba emphasized government's commitment to ensure poverty is dealt with in the country.